Content
Sign in
So, you want to hold webinars.
MyOwnConference service provides everything you need: webinar room, all useful tools and qualified technical support.
In this manual we will tell you how to set up your webinar room, add presenters and all the necessary materials for your event.
First of all, you need to sign up to MyOwnConference trial package on our website in Try for free or buy one of provided packages in Plans & Pricings section.
You can sign up to our site by entering your name and email, or in one click by pressing the buttons of social networks Facebook or Google+.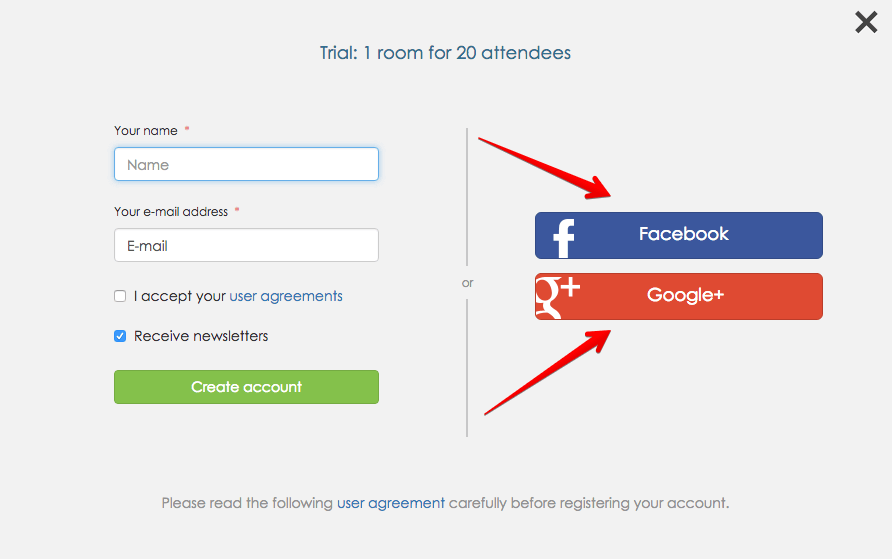 After sing up, you will receive a message on your email to log in to the system.
You need to choose "Sign in" to log in to your account in MyOwnConference site or use the link https://cp.myownconference.com/.
How to Create a Webinar
Webinar room – is a web page where you hold a webinar, online conference or meeting, and in fact it is just like usual audience. A presenter can show students the additional materials, leave marks on a special interactive whiteboard, use the pointer. Also, the participants can interact with a presenter, ask questions via chat or voice speaker.
Please note that you do not get a set of webinars, not a webinar, but a place where you can hold your activities in an unlimited amount for a selected period.
This room is available to visit at any time unless you specified other settings.
Do the following to create a webinar in your webinar room:
Select Webinar room

in the dashboard;

Set and save the webinar settings.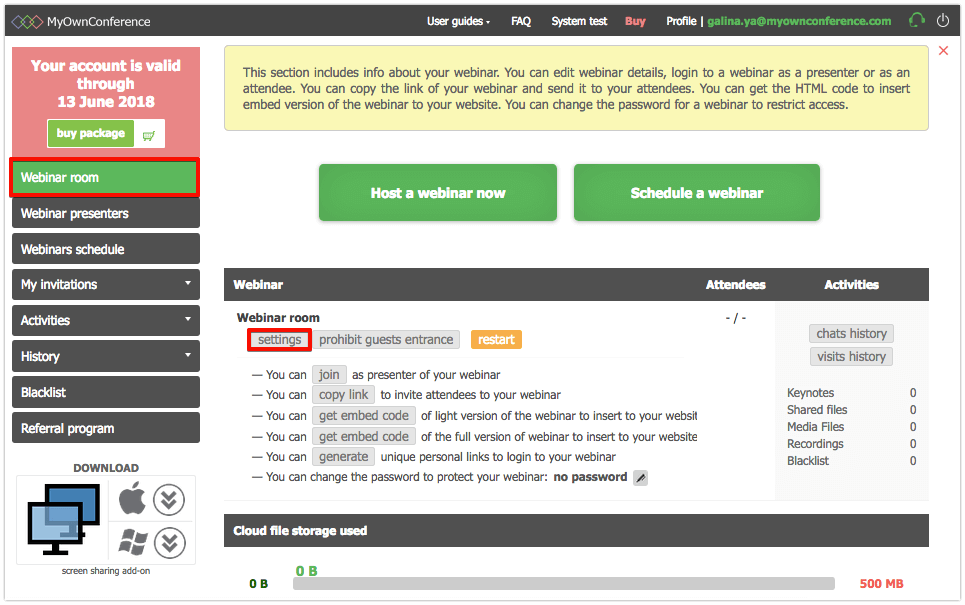 Do the following for packages with few webinar rooms:
Select Webinar rooms

in dashboard.

Click Add a new room.


Set and save the webinar settings.
Main Settings of Webinar Room
Let's see which options are available for you in MyOwnConference service.
You can always make changes of your webinar settings in Webinar room, or on home page of the dashboard. To do this, click on "Settings" under the title of your webinar.

General Settings
Firstly, please fill in the required fields in General tab in settings of your webinar room.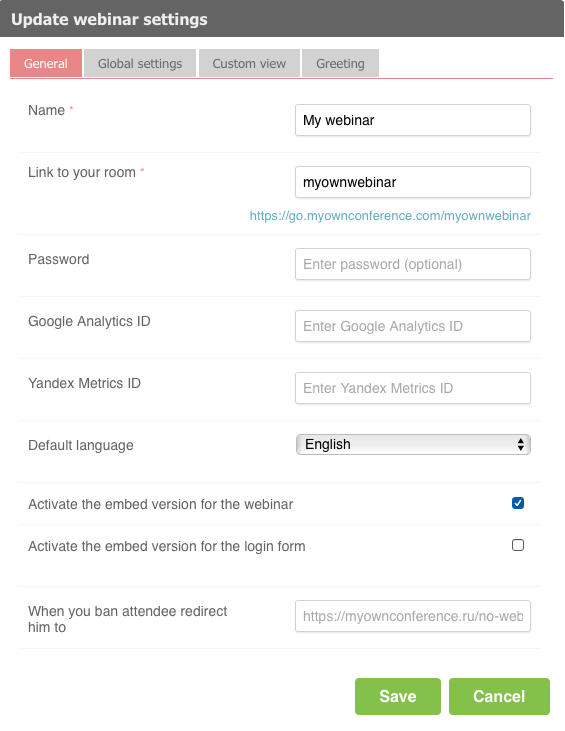 Name – a webinar theme that will be displayed in webinar room. The theme can be changed as much times as you need.
Webinar description – description of your webinar.
Link to your room – a link to the webinar room. Only the last part of a link can be changed. For example, if you give a name "test", the link will be like this:  https://go.myownconference.com/test
If you have changed link to the webinar, the previous one will not be available. You should not change the link to the webinar during broadcast, because your participants will be forcibly removed from the room.
Password – a password to log in to your webinar room. It is possible to set and change a password for the webinar. If you clear the field, a room will not require a password.
Google Analytics ID – allows you to connect Google Analytics to the webinar room and track webinar attendance with Google Analytics service.
Default language – a language of the room interface. You can select the language to be displayed in the room of your visitors. If you have selected "auto" the room will define the user's language and will be opened in that language. Also a participant can choose another, more suitable language for him while the entrance to the room.
Activate the embed version for the webinar – enables service integration function for your site.
Settings for Participants
In the Global settings tab, you can select the actions allowed for webinar participants. You can set a number of options that will be available for your guests by choosing them in the list.
If you put a mark in front of the option, it means to be turned on.
We recommend you to turn on a chat, display a list of participants and possibility to ask questions and ask to speak, make sure that the following options are marked:
Display the Speak button,

Make the attendees list visible,

Display the Question button,
Display the Ask to speak button,

Display public text chat.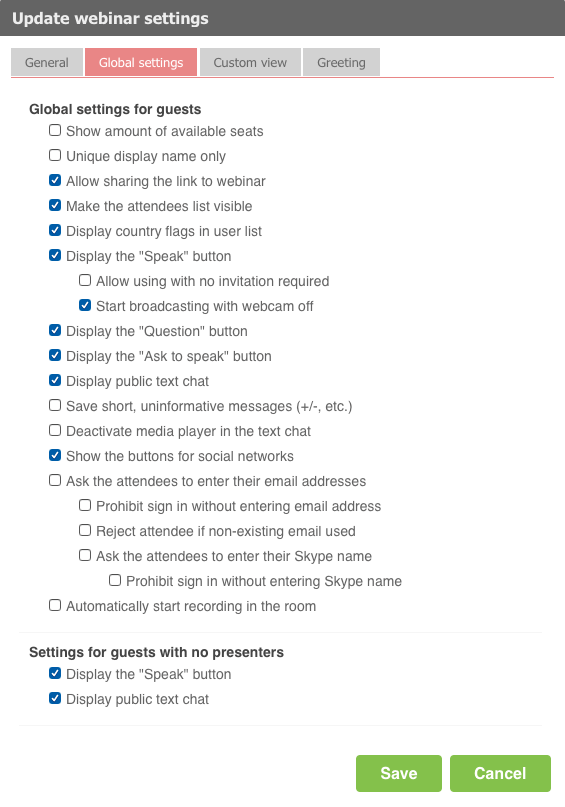 How to Change a Webinar View
You can make the appearance of the webinar room as you like in the settings in Custom view.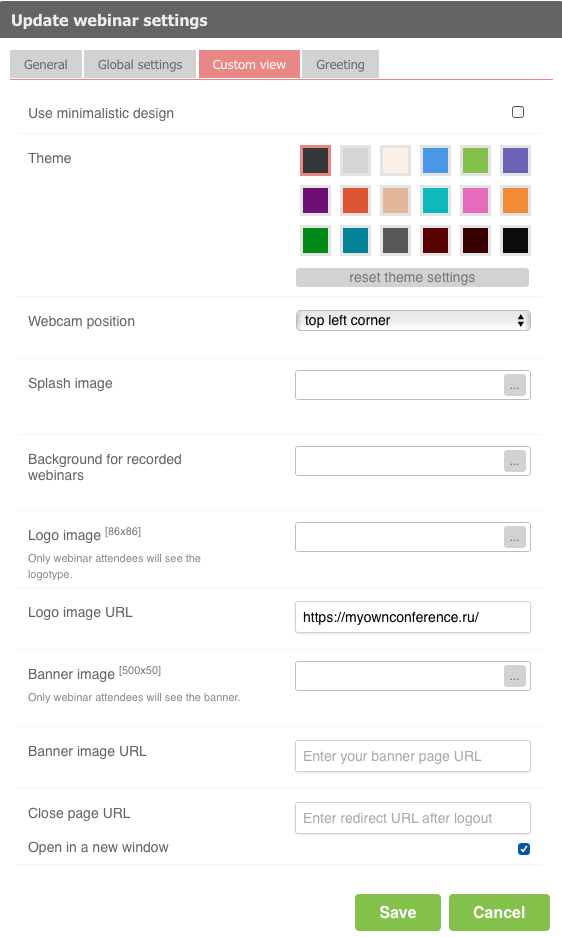 If you mark

Use minimalistic design

option, your icons will occupy a minimum place and there will be no titles for them.

Select one of 18 color schemes in

Theme

.

Choose where to place an image of your camera in

Webcam position.

In

Splash image

you can choose a picture for the background of registration form of your webinar.

Seta background image for webinar you record. During the webinar, your participants won't see it.

You can upload an image for a logo and banner for the webinar from your computer. A banner will be placed at the top of webinar room. A logo will be in the upper left corner, but it will be shown in the minimalistic design mode.

In the fields

Banner image URL

and a

Logo image URL

you can write a page address which your participants will see, if they click on a banner or logo.

On

Close page URL

, you can enter the page address where will go your webinar participants after they click

Exit

button in the upper right corner of the webinar. This page can be opened in a new window if you want;just mark the option

Open in a new window

.
Pay attention to the recommended image size. For Splash image choose an image of the largest size.
How to Set a Greeting
Greeting message – text or video message that appears when you log into the webinar, when there is no presenter in the room. All the webinar guests will see this message until one of the presenters log in to the webinar.
You can allow guests to enter the webinar while setting a greeting message. If you activate the ability to sign in to the webinar, a guest will see two buttons Exit and Login in the window with a greeting message. If the ability to log in is not activated, then the visitor will see only the Exit button. If he clicks on it, he will be forced to leave the webinar.

Do the following to set a greeting message:
Go to the settings of the webinar by clicking

Settings

button on the home page or on

My Webinar

page.

Open

Greeting

tab.

Enable the option

Show the welcome message before webinar beginning

.

Allow sign in to the webinar. If you want to block log in to the webinar until the entrance of at least one presenter, then deselect the option

Allow sign in to the webinar

.

Enter your message for visitors.

Add previously downloaded video or audio recording or YouTube video.

Click on

Save

button to save the changes.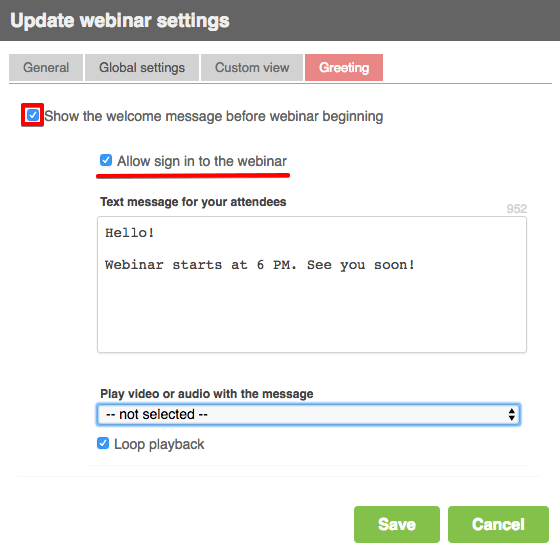 Now the visitors will see a welcome message when log in to the webinar.
The message will be automatically turnoff after log in of any of webinar presenters.
We recommend writing a date and time of the nearest webinar in welcome message, as well as contact details of a presenter.
How to Add a Presenter
In Webinar presenters you will find a link for a presenter, which was generated automatically by the system while account creation. You are free to use this link for the webinars as the presenter.
There is no different between roles of moderator and presenter in MyOwnConference: a moderator, as a presenter can also go on air, do a broadcast recording, and supervise a chat. Therefore, you can add or invite assistants to the webinar in Webinar presenters.
Do the following to add a new presenter:
Select the 

Webinar presenters on Dashboard.

Click the

Add a new presenter

.

Add a name in

Display Name

. The name of the presenter must consist at least of2 characters.

The

Presenter

is created automatically. You can always change it. This name will be used by a presenter at the log in to the webinar room.

The system will generate a password by itself. It will be used by a presenter to log in to the webinar room. You can always change it. Password must consist at least of 6 characters. Mark

show password

if you want to make sure that the password you entered is correct.

Click Save button.
You can create an unlimited number of presenters, but simulcasting during the webinar will be available only for 10 people using a paid package and for 2 in a trial package.
Please note that each presenter is ranked 1st in webinar room.
By adding a new presenter, you can copy his link and send so he could carry one or more webinars.
Presenter's link is individual and is created for each presenter separately.
Now you can invite a presenter. To do this, select one of the following options: copy link or send an invitation.


You can send copy and send a link from You can copy link to invite a presenter to your webinar. This link is permanent and does not change after the end of the webinar.
Link has the following form: https://go.myownconference.com/14549543/moderator/U3Rhbmlz
You also can send an invitation link to the presenter automatically.
If you click on the send button in line You can send the user an invitation to become the webinar presenter, you will need to enter a name and email address to send invitations.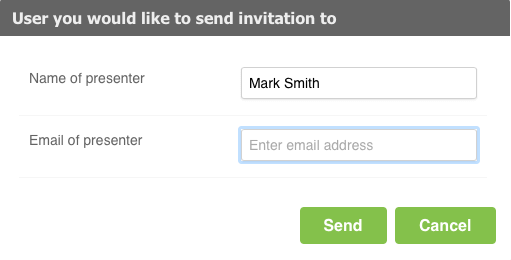 Then a presenter you've invited will receive a message using which he can log in to the webinar.
Presenter's Avatar
When you create a presenter you can set a number of parameters for him, such as an avatar for a camera (photo or picture) and avatar is in the list of participants.
Users list avatar– an image to be displayed instead of the country's flag in the list of users. It is better to download an image of 19×19 pixels size. A different size image can be displayed incorrectly in the room.
Webcam avatar will be displayed in the room when the presenter speaks without a camera. Recommended image size is 320×240 pixels.
You can install his avatar when creating a new presenter account. Later, an avatar can be set in menu Settings.


A presenter that was created with an account registration cannot be deleted in MyOwnConference because it is linked to the account. You cannot delete a presenter's account either, because he is involved in autowebinar.
If you want to limit the entry to some of presenters to the webinar, click on disallow access to the webinar button under his name, so you eliminate the possibility of his accidental entry to the webinar at the wrong time.
How to Create a Link to Invite Participants
In Webinar room you can copy the link and send it to your participants.
This link is permanent and does not change after the end of the webinar.
Link has the following form: https://go.myownconference.com/315820145
If you want to share a link to invite visitors to the webinar:
Press

copy link

in line

You can copy link to invite attendees to your webinar.


By clicking on below button you will see a link that can be copied by pressing CTRL + C, or by clicking the right mouse button and selecting

Copy.

Then just use CTRL + V combination to paste a link in the right place.
Add Materials for a Webinar
Add Documents and Presentations
Do the following to download the documents to the webinar room:
In Activities

section, click on

Add Files button


In opened window select a file or few files. MyOwnConference service supports such formats as: PDF, PPT, PPTX, PPTSX, PPSX, ODP, PNG, JPG. The maximum size of the loaded document is 50 MB.

Click on "

Open

" button.
There will be a conversion process after download. A conversion time depends on the file size and can range from a few seconds to 10 minutes. The documents will be available in this section and in webinar room after their conversion.
If you have several webinar rooms in your account, you can specify which room you want to download the documents in.
You can choose for whom of the presenters this file will be available or make it available to everyone.
Add Video and Audio
Do the following to add video or audio files:
In "

Video & Audio

" section, click on "

Add Files

" button. 

Choose the files in appeared window. The maximum size of the loaded document is 300 MB. You can add files of such formats: MP3, MP4, FLV, F4V.

Click on "

Open

" button.
Do the following to add YouTube video:
Copy a video link. Choose the video on YouTube and copy the video link in your browser.

In "

Video & Audio

"section click "

Add YouTube video

" button.

Paste the link in appeared field by clicking on CTRL + V.

Click on "

Add

" button.
Additional Information
If you haven't found an answer to your question, we invite you to see our other training materials and video tutorials.
Here you will find answers to the frequently asked questions.
If you want to contact the technical support department, click on Online Support button in the lower right corner.