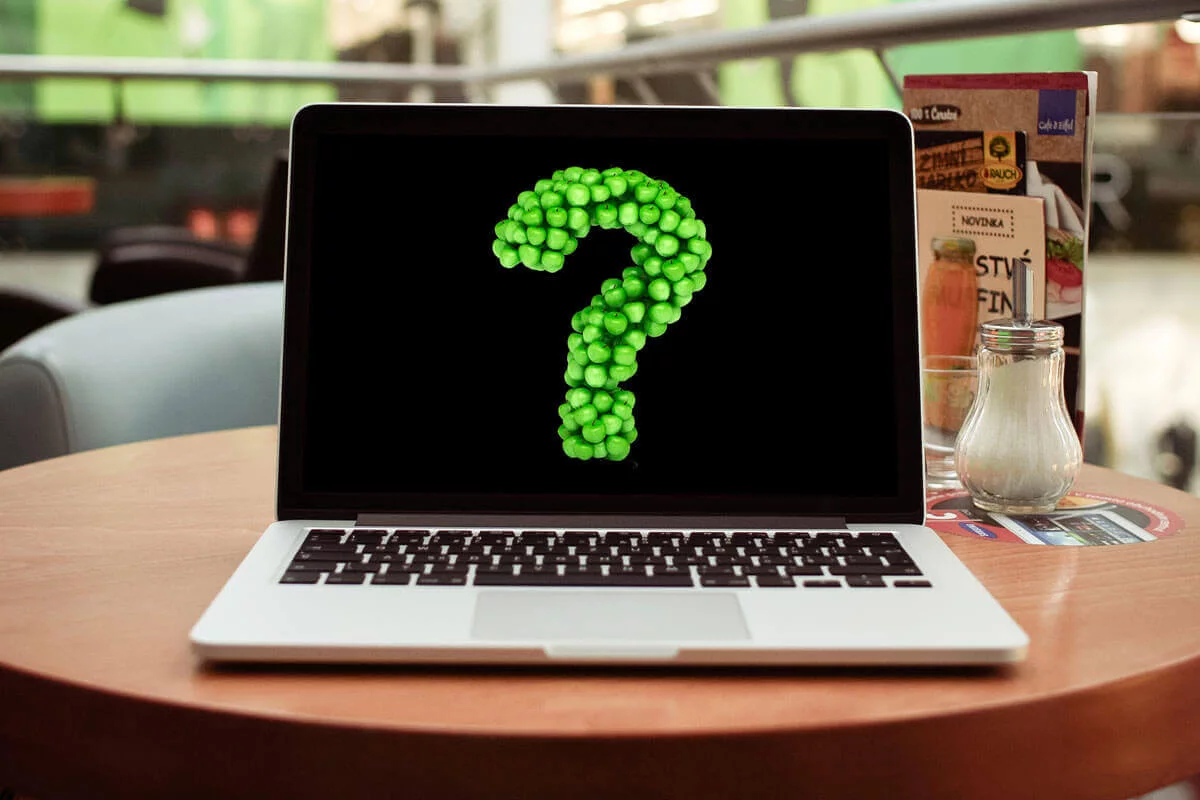 The new function My Invitations in the webinar service MyOwnConference allows creating capture pages for pre-registration of webinar attendees, sending users reminders about the upcoming event and managing the subscribers database. In order to make using the new features easy and smooth, we have elaborated top 5 frequently asked questions on the topic.
How can I run pre-registration for my webinar?
To start, you would need to create a special capture page with main information about your webinar: date and time, topic, presenters, brief announcement. Capture pages shall contain the form for users to provide their data like name, e-mail, phone number and gender. Such forms can be created in the Signup forms section by pressing the Add a new form button.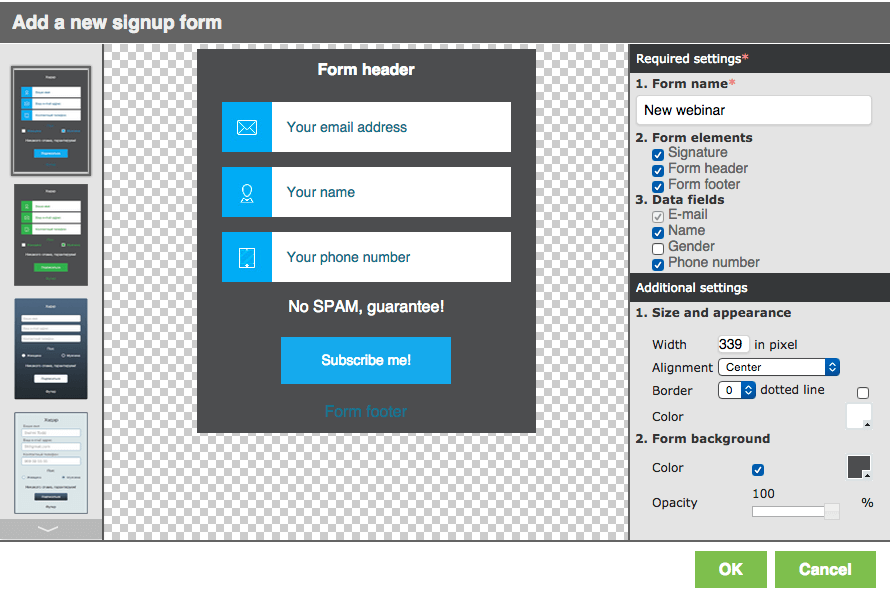 On the left, you will be able to select the signup form design. On the right, you need to indicate the name of the form, its elements and fields for information input. Press OK to apply changes.
Now you can proceed to creation of a page for preliminary registration to webinar. Note that you are not able to create a capture page until you have a previously prepared signup form. To create a capture page, press the Add a new capture page button. In the popup window, enter the page's name and description and add the signup form. On the Page Theme tab, you are welcome to choose your preferred preset out of the 10 available.
After our page has been created, you can add important information about your webinar by pressing the Visual editor button.
After registration for webinar, a user receives the message "Go to your mailbox to confirm subscription". How can this text be customized?
Under My Invitations section, choose Settings. On the Additional tab in the Text for default activation page field enter your desired text. Also, this tab allows you to change the name of activation link, unsubscribe link and one for marking as spam.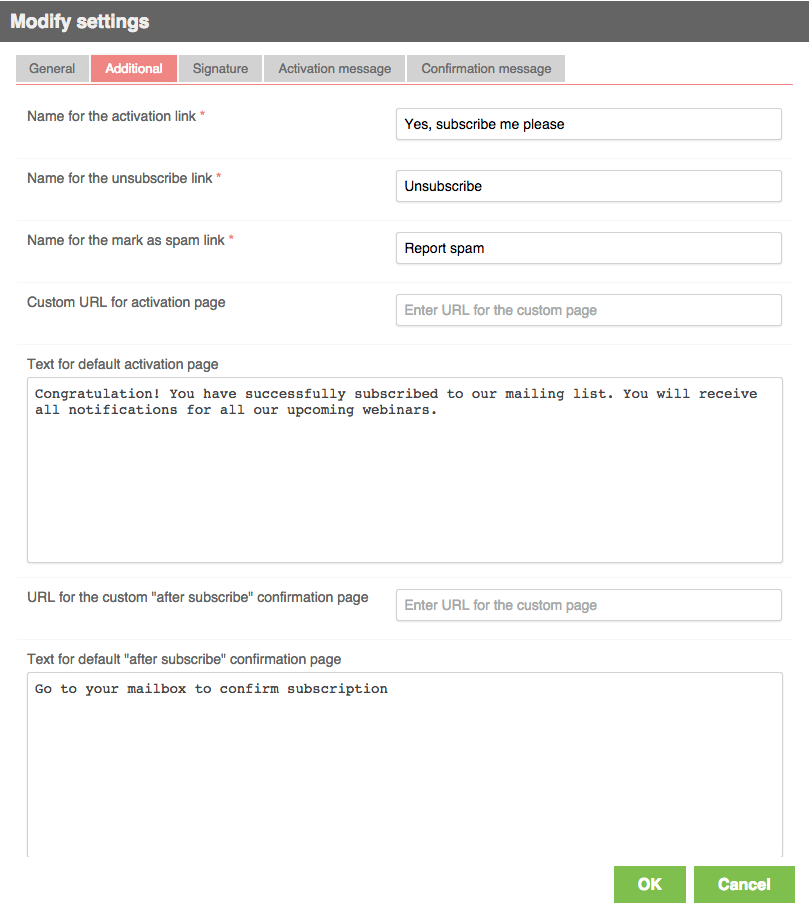 Why do users need to confirm their registrations for webinars?
This is required in order your subscriber database does not get non-existing addresses listed. Moreover, this helps considerably decrease percentage of our emails marked as spam.
Where can I see the list of registered attendees?
The list of users subscribed to your webinar is available under the Subscribers section. You can download it to your computer, too. To do so, press Export to CSV. In the popup window, select the data you need to save.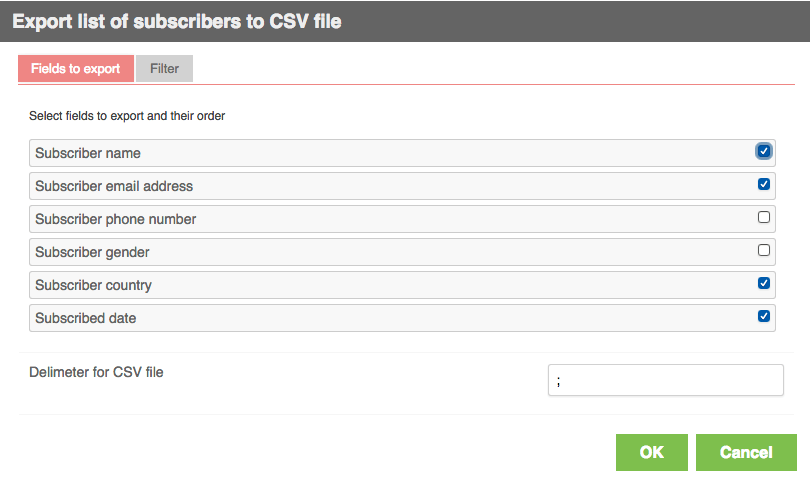 Also, you can export not the complete database of your subscribers, but a separate category instead. To do so, in the Filter tab tick Filter the subscribers and select the fields you need. Press OK to confirm. File download will start automatically.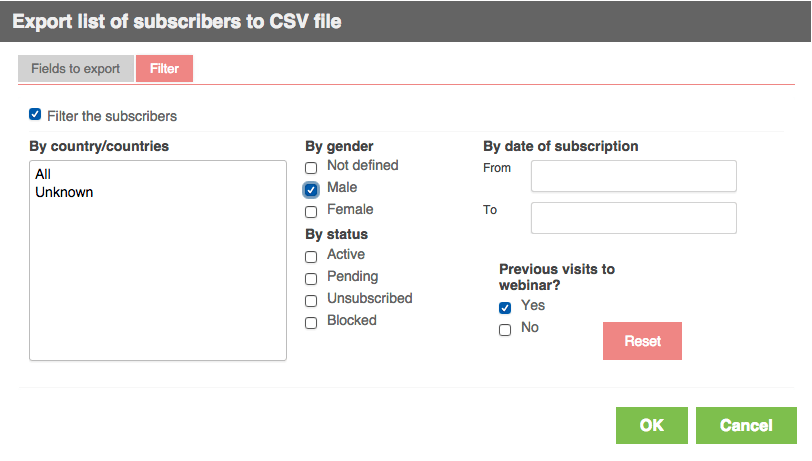 How can I prepare a chain of messages so that attendees receive reminders about the webinar in 2 hours and in 30 minutes before the broadcast starts?
Under Messages, press Add a new message. In the popup window, indicate the message topic, date and time it will be sent, as well as the message text. E.g. you plan to start your webinar at 18:00, and you need to set the sending time at 17:30. Confirm your actions by pressing OK.
Сохранить
Сохранить