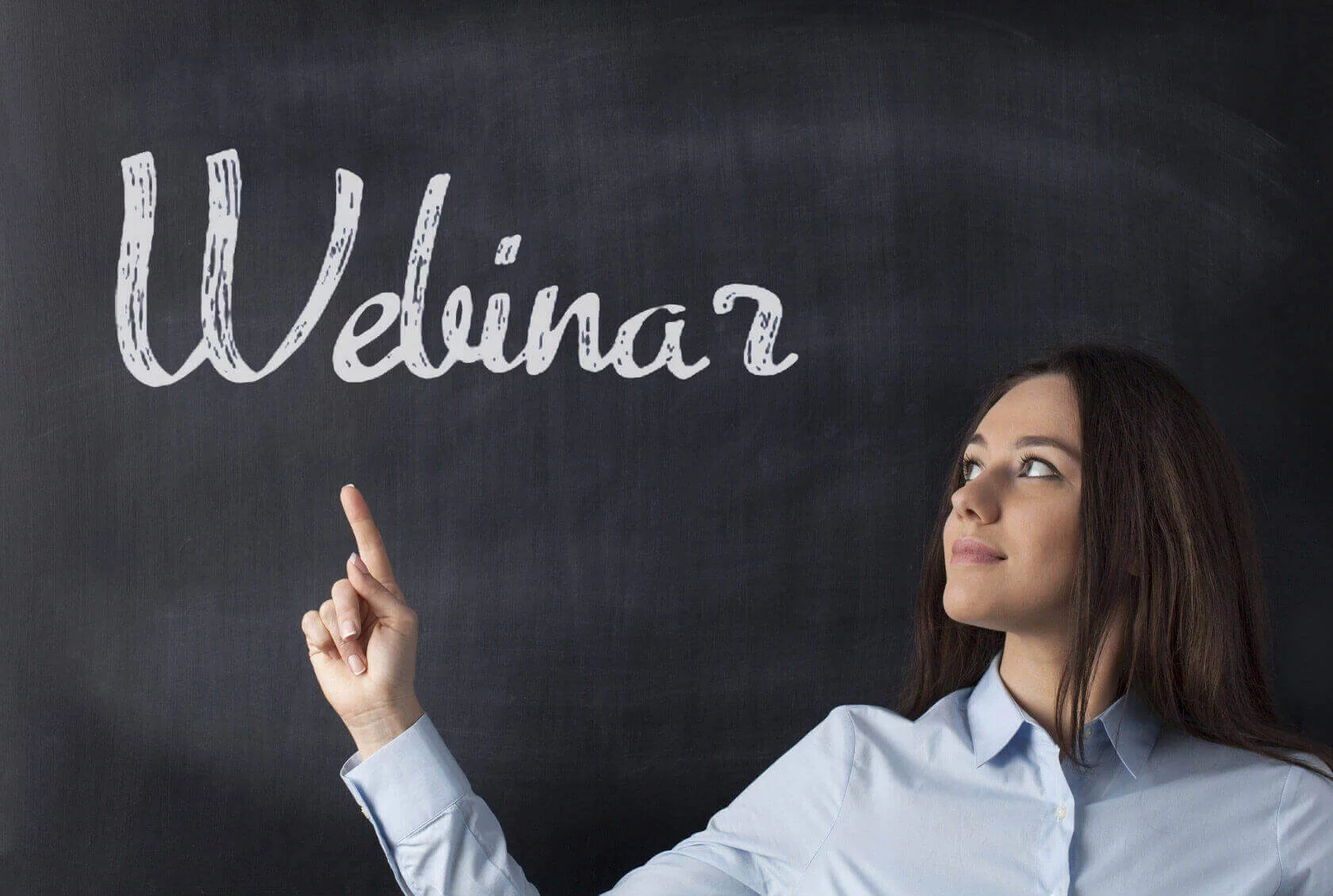 Webinar (synonym: online seminar, web conference) is an online meeting or presentation held via the Internet in real time. You can find another webinar definition, which says it is an event held online.
The main feature of live webinars is interactivity, or the ability to discuss, send and receive information in real time. During an event, you can start polls, invite other participants to act as a presenter, communication through online chat, share your desktop and variety of digital materials.
Main features of webinars:
Multidirectional conference.
Ability to download and watch presentations and videos.
Text chat.
Digital board.
Polls and surveys.
Sharing of the presenter's desktop.
Recording broadcasts for further watching.
Advantages of webinars
Online seminars are convenient for both presenters and attendees. This is why the format grows more and more popular every year. Webinars make holding conferences and meetings convenient and effective. Anyone can participate in a webinar without leaving one's working place or just while staying at home, on a business trip or vacation. No more headache concerning venue rental, coffee breaks and transfers – holding a conference is as easy as several mouse clicks!
Webinars are successfully used in education, marketing, sales, corporate training. You can create conferences, educational courses and seminars on any topic and for any audience.
Interested in hosting a webinar? Register at MyOwnConference and hold webinars for 30 days for free.
What is necessary for a webinar?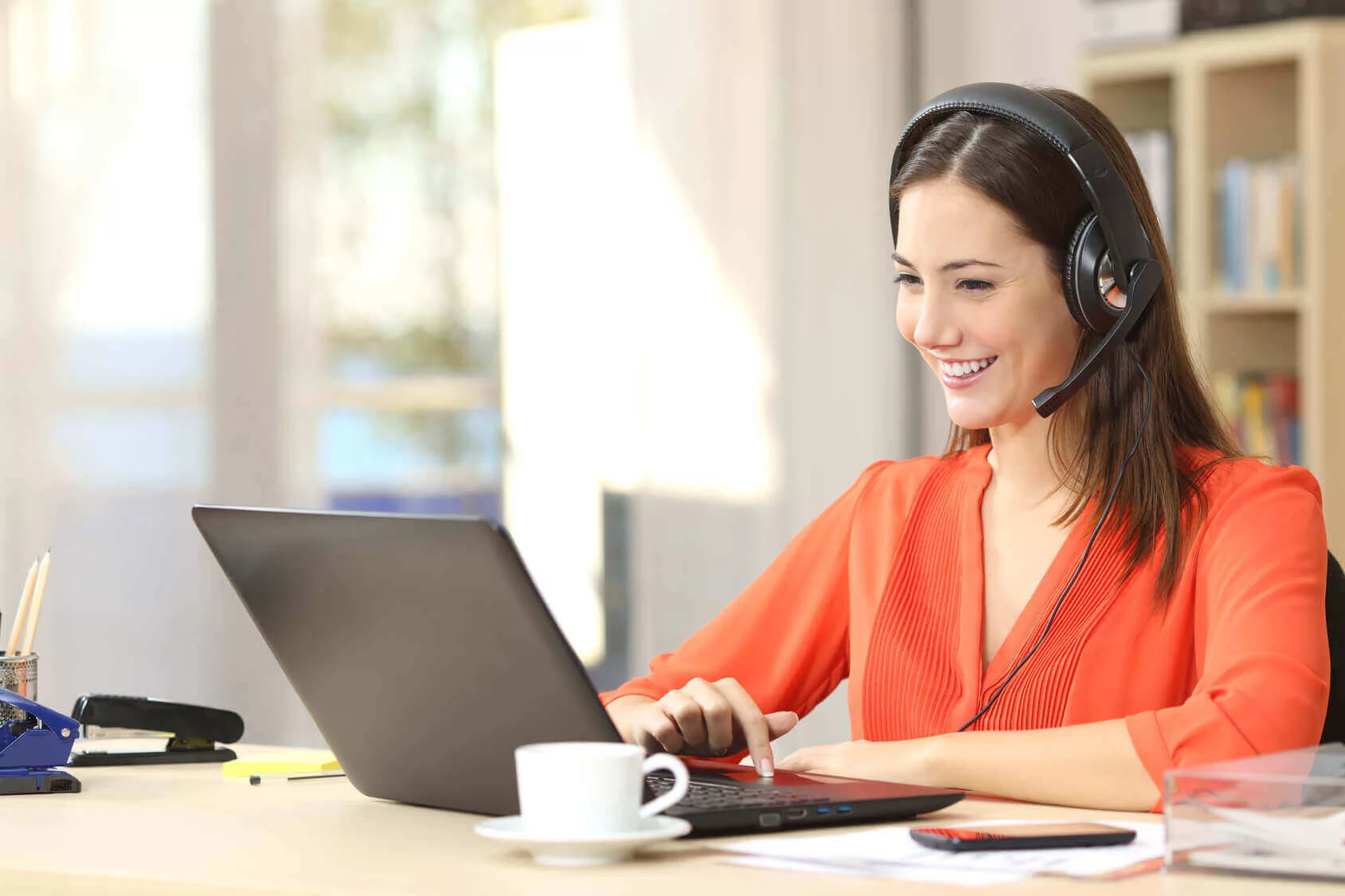 For attendees, Internet access and an audio headset (headphones, microphone) are vital.
For webinar presenters, important are Internet access, webcam, headset and webinar hosting system.
To hold a webinar, you no longer need to install additional software and special equipment. To initiate a video conference, for you it will be enough to have a computer with Internet connectivity, audio board, acoustic speakers and microphone. Practically all modern computers have the required components out of the box. On top of that, you do not have to possess some special technical knowledge. If you can use search engines or watch video on YouTube, you will cope with holding a webinar.
To organize quality and effective broadcasting, you need to pay special attention to the webinar room where you will host your events and the headset.
How does a webinar work?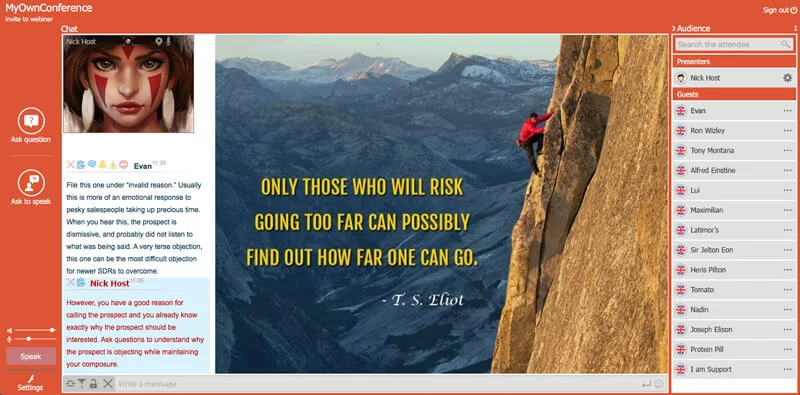 Communication at live webinars goes like the following: the organizer communicates with its audience while sitting in front of one's computer, using a webcam, a microphone, a headset and demonstrating its attendees some digital graphs, tables, keynotes and pictures. Participants watch, listen, communication with one another and with their tutor using the text chat or the forum. The tutor or its assistants answer questions and comments received from the online chat. When necessary, any attendee can be given floor.
So, when you sum the webinar up, you will be able to exchange aired questions and answers with one another. Usually, event recording is sent to all attendees on dedicated media in case someone might have been late or missed the online meeting.
Now that you know what is a webinar, you are ready to create your first event.